Our Colorado Weather!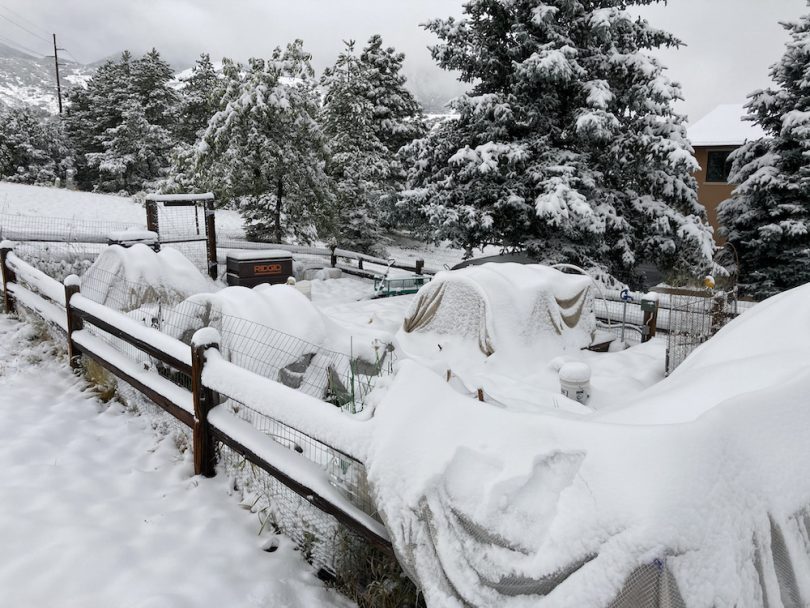 Garden Site/Weather
So, while the pepper seeds are germinating in the house under grow lights, let's talk about the garden site here in Morrison Co. The United States has 11 growing or hardiness zones which are arranged according to the average lowest temperature. This helps gardeners know which plants are most likely to survive in any given area over the winter months.  The hardiness scale is usually given on most plant labels, seed packets.  Denver Colorado falls into zone 5 which can have low temps down to -10 F.  But even with the hardiness map, every garden is unique with the amount of sunlight, shade, wind and temperature variations.
The altitude here of 6,135 ft does not really affect the garden except for wide temperature variations.  During the summer, the daily high/low temps are a wide gap – 90's during the day and 60's at night with very cool nights in spring/fall.  Luckily the summer vegetables do fairly well here!  The foothills/mountains are a totally different climate zone (3 or 4) with temperatures usually 10-20 degrees cooler than Morrison which means they usually cannot have the warm weather vegetables like tomatoes, peppers, zucchini unless grown in a greenhouse.  Hail and spring/fall snow storms make protecting plants very challenging at any given moment.  We have daily afternoon thunderstorm 'squalls'  that develop in our area; so we can have a hail challenge on any day.  In June 2015 I spent hours planting all my tomatoes and peppers when a huge thunderstorm with large hail hit the next day and destroyed all the plants!  It took a few years to figure out how to protect all the veggies from all these events with row covers. Row covers are great for holding in heat at night, wind and even too much scorching sun on some tender leaves.  They come in large rolls so we can cut to size.  They allow 80% of sunlight to penetrate which allows them to be left on for extended periods of time. Now we've got this down! Cover and clamp.
Location is very important!  Most plants need at least 8-10 hours of sunlight/day, but not all plants like full sun all day which is why it is important to read the seed packets that tell you that information.   My garden is well located with southerly exposure all day with wide open space around it (except for the pine trees on the north side which gives shade in the late afternoon). Fencing the garden is a whole other topic!  Our weather station is mounted on the southwest post of the garden for accurate temp/wind measurements.
I would love to have a greenhouse but unfortunately we are not allowed to have a greenhouse in our Willowbrook Subdivision.  If I could, I would have a small one half the size of my current garden for winter growing.  In the fringe seasons a " cold frame " would be acceptable because it is essentially a rectangular wood frame pushed into the dirt with a thick clear plexiglass lid with hinges.  The plexiglass allows the sun to warm the space beneath giving some heat to cool weather plants like lettuce, spinach extending their season well into winter!  That's on my list for this fall.