"STINKING ROSE" & ONIONS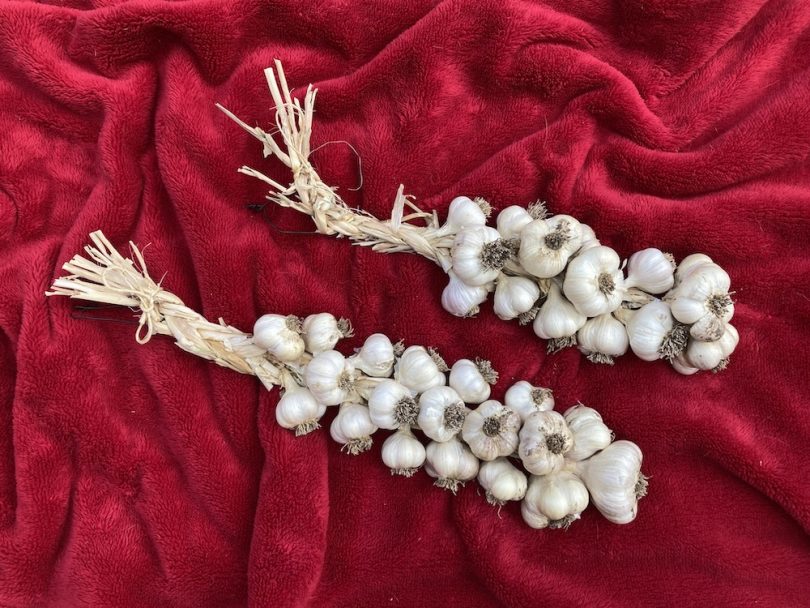 Garlic is sometimes called the "stinking rose" due to its strong odor from one of its components called 'allicin'. It is native to South and Central Asia and has been around for several thousand years moving further west until the Renaissance when it became widely used for cooking.  Historically it has also been used for medicinal remedies including treatment of arthritis, snake and insect bites, chronic cough and as an antibiotic.  It is well known that Garlic is very healthy for you!  It can protect against colds, support the immune system and can even lower blood pressure!  Both garlic and onions are considered 'super foods' since they have antioxidant properties.
The garlic leaves dried-up right-on time in mid-July.  I pulled them out all at once trimming off the tuft of roots and dried stem leaves. I placed them on the wire mesh table to 'cure' in the sun for about 10 days to dry them down for long term storage. I braided 3 strands for storage in the pantry.  This fall I will use a few bulbs from this year to start the new crop for next year! And so the cycle goes….
Onions are the oldest cultivated vegetable dating back 5,500 years to Ancient Egypt, Asia and Iran where onions were symbols of eternity, endless life and were part of burial ceremonies (especially during funerals of Pharaohs)!  Like garlic, onions have a pungent taste and smell that results from the sulfur-rich volatile oil. My onions followed the same growing course as garlic (not planted in fall) throughout the summer and will be ready for picking several weeks after garlic.  When onions are done growing, they will fall over at the stem neck. Mine have started to fall over but I will wait until at least half of them are folded over before pulling, curing and braiding like the garlic.
So what do we do with all the garlic and onions?  Once the tomatoes ripen, we will make a lot of fresh pico de gallo with the tomatoes, sweet onions, serrano peppers and cilantro and a bit of garlic.  We eat onions in almost every dish we make year-round.  The garlic will stay fresh for a few months then I will chop a bunch of cloves, put them in a small jar, add olive oil and store them in the refrigerator for the winter!