Property Details & Maps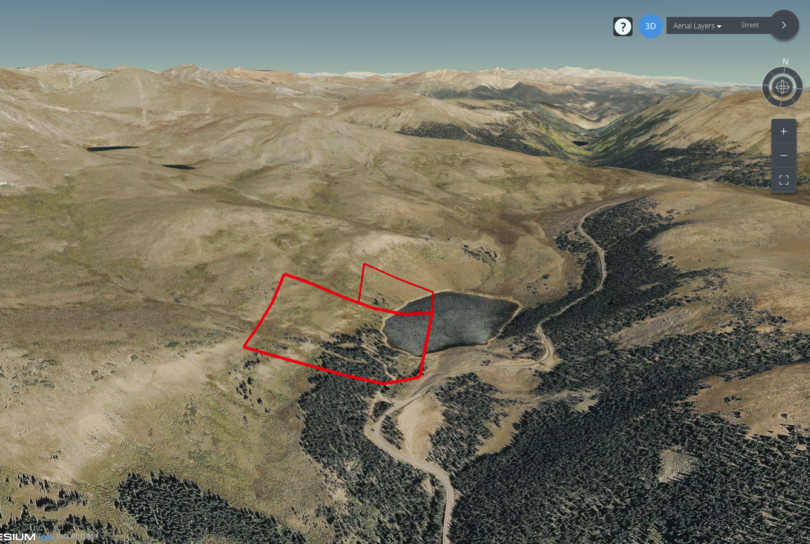 The property is located in Clear Creek County just off of Guanella Pass Road a little over a mile below the south side of the pass along the Scenic & Historic Byway between the historic mountain town of Georgetown to the north in Clear Creek County along Interstate 70 and Grant to the south in Park County along Hwy 285 and can be accessed equally from either direction. Only 56 miles from Downtown Denver, the property provides a quickly accessed private playground to the metro area or from Denver International Airport.  The fully paved Guanella Pass Road is closed in the winter to public traffic access from the Monday following Thanksgiving until Memorial Day each winter, and the owners have the right to gate access to utilize through that period for vehicle access when the road is navigable, or for snowmobile or snowcat access when it is not.
MapRight Interactive-zoom in/out and Hover over elements  or "View Full Screen" for additional information.  Use "3D" Button in upper left  and drag "N" around compass for additional perspectives.
The roughly 61.248 acre property is a cumulation of two adjacent parcels: A deeded relatively square portion known as Alpendorf on the Lake of roughly 50 Acres, and a smaller relatively square parcel of Undivided 50% Interest Only owned in Joint Tenancy with the Burlington Ditch, Reservoir, & Land Company known as Government Lot 18.  This configuration gives the property owner unfettered access to a portion of the shoreline as well as the surface of Duck Lake.  The remaining shoreline of the lake is in the ownership and control of the Burlington Ditch, Reservoir, & Land Company, creating an entirely private lake and perimeter with no public access.  Yet these parcels are completely surrounded by Public Lands providing a seemingly endless back yard and playground to the property.
Within the larger Alpendorf on the Lake parcel there are 6 separately deeded internal parcels to be consolidated and conveyed as part of the sale.
Follow the pages below for detailed information on different elements of the property!