Barn, Arena, Corrals & Pastures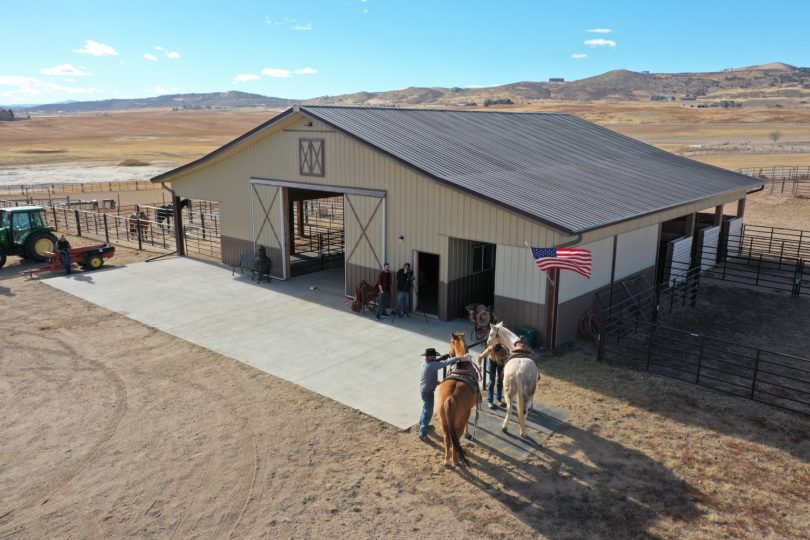 The main 65′ X 52′ Barn is host to 8 stalls in addition to a heated tack room and covered hay storage.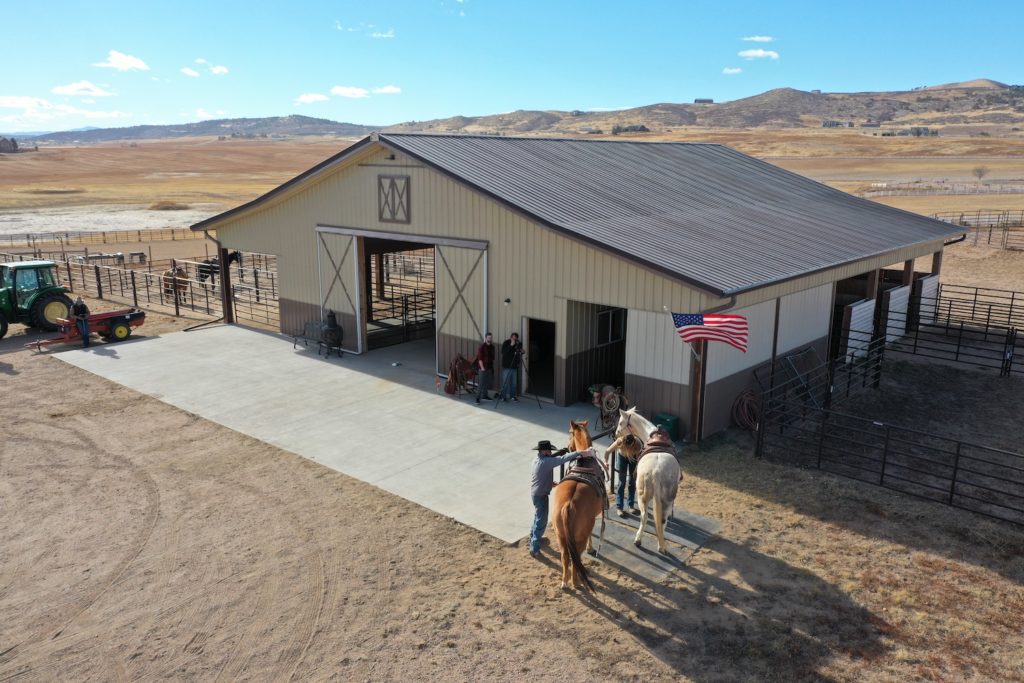 On the north side 3 custom Stablemaster interior stalls feature sliding door access from the barn alleyway and dutch doors leading to the outside extended covered and uncovered portions of each enclosure.  The south side is divided in to 5 independent indoor/outdoor runs 12 1/2′ x 18′ each and constructed of high quality Tarter powder coated fence panels.  The thoughtful construction of the barn can allow for the open south side of the barn to be easily fully enclosed should that be desired.
All stalls, paddocks and pastures are outfitted with Lil' Spring automatic watering tanks providing ease and consistency to the barn chores.  The interior portions of all stalls have rubber mat footing.
All of the paddocks, pastures, alleyways and facilities have been thoughtfully arranged and planned for efficient pasture rotation and livestock management.  Gates have been strategically placed and access to water hydrants is plentiful throughout the property.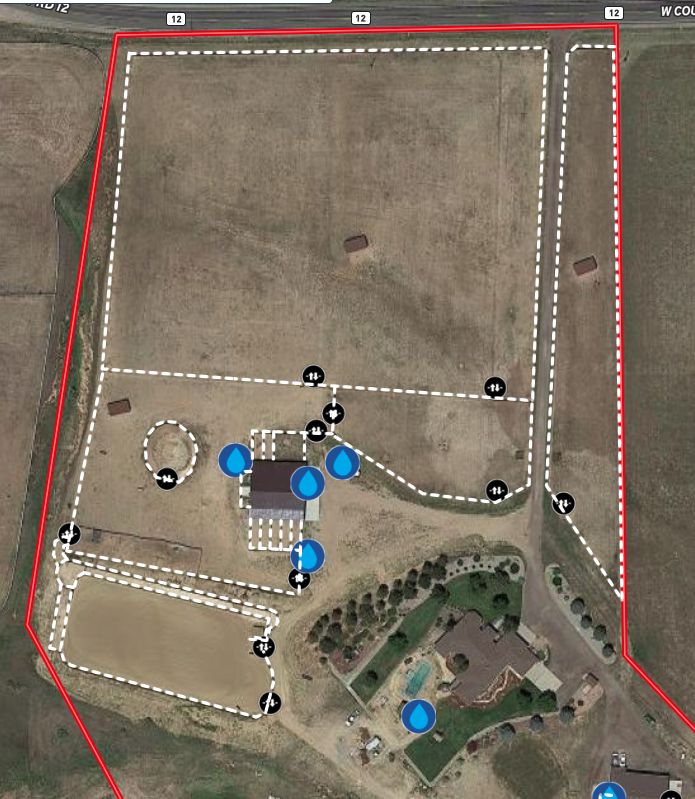 A 110′ X 150′ Riding & Roping Arena is one of the many extraordinary attributes of the property.  Another one of the well thought out features; the arena is supported by livestock management channels that provide seamless access from other areas of the ranch for  both horses and livestock.  Roping calves feed in to a sweep tub that feeds a pneumatic release roping chute splitting dual roping boxes for both individual and team practice.  Well maintained sand footing and quality Tarter fence panels, gates and equipment make for a superior facility.  This configuration can be easily modified and re-configured to accommodate multiple diciplines.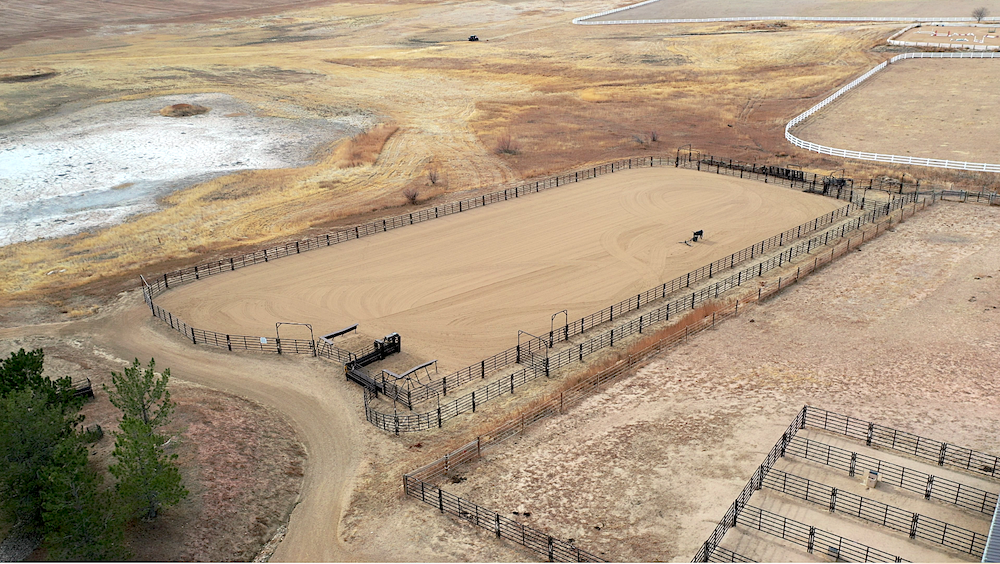 Pasture fencing has been constructed of a 5 cable system with the top and 2nd from bottom being integrated in to solar fed electrified fence to help manage cribbing and entanglement while maintaining a sleek and attractive fence structure throughout the estate.  Frequent tensioning devices are placed to assist in long term fencing management.
A 70′ round pen is conveniently located off the barn for training and warming exercises.  12 X 24′ steel sided loafing sheds provide shelter within 3 of the cross fenced pastures
Approximately 25 acres of additional pasture is currently unfenced and is utilized for riding and recreation.  This area or portions of it could easily be fenced for additional grazing utilization.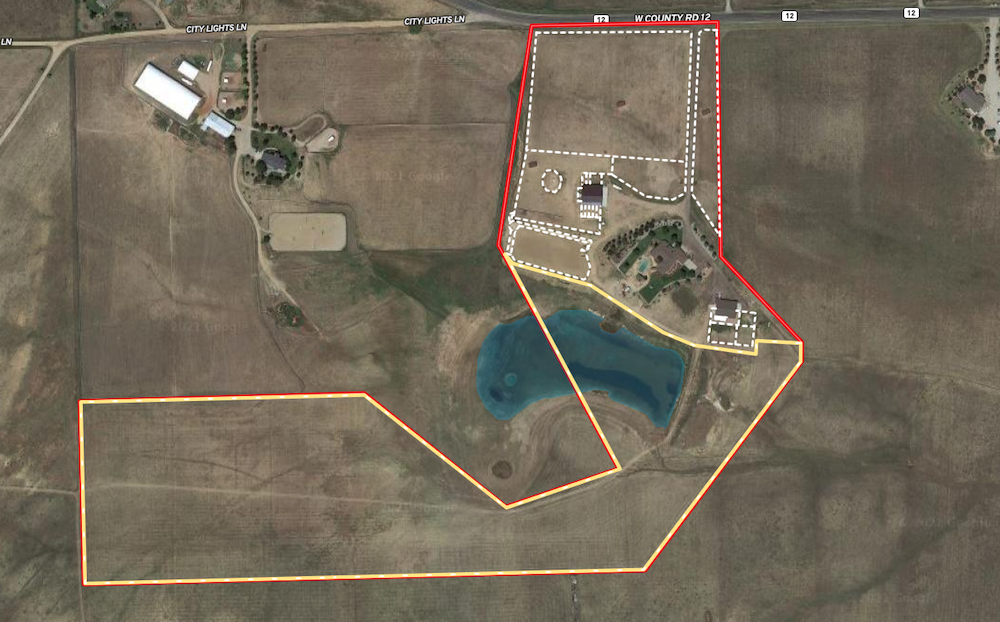 Follow the pages below for detailed information on different elements of the property!