Property Details & Maps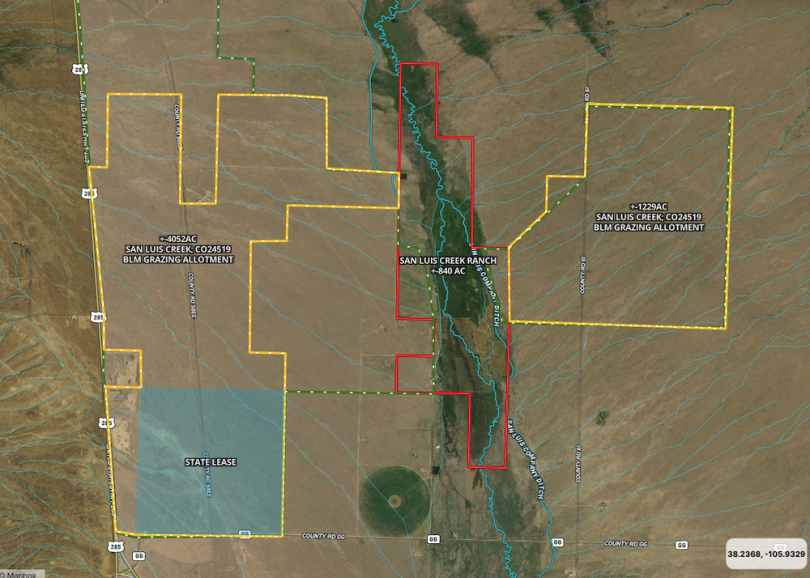 The 840 Acre San Luis Creek Ranch is located in Saguache County at the northern end of the San Luis Valley just south and east of Villa Grove Colorado.  Nestled between the Sangre De Cristo and San Juan ranges, this Colorado Ranch for sale is only 30 miles south of Salida and 50 miles north of Alamosa
Use the MapRight Interactive mapping below to zoom in/out and Hover over elements  or "View Full Screen" for additional information.  Use "3D" Button in lower right and then hold "control" while clicking and dragging to gain additional perspectives, topography, and views.
The property consists of 840 deeded acres just southeast of the town of Villa Grove.  The San Luis Creek BLM Grazing Allotment lease which may be transferable to buyer consists of an estimated 4060 acres adjacent to the west and another 1255 acres adjacent to the east.  It has been noted that the BLM allotment boundaries include some areas of unfenced private land which could reduce the practical area of grazing opportunities at some future point within the western portion to roughly 2345 acres.  Within the western allotment is the 640 acre Mineral Hot Springs state land lease, which may be eligible for assignment with approval from the Colorado State Land Board.
(Note access permitted by appointment only and must be accompanied by Broker)
The property is surrounded by a myriad of literally thousands of acres of public lands including BLM (yellow), State Land trusts (blue) and National Forest (green)
The deeded 840 acre parcel is fenced and crossed fenced to a multitude of pasture and hay production segments.  The property is accessed from Villa Grove via County Rd 58EE & Jj5, or from the south via County Rd GG.
Soils on the deeded 840 acres consist of primarily Big Blue clay loam, Acasco clay loam, Platoro loam and Vastine loam with smaller areas of Garita Gravelly, Graypoint Gravelly/Sandy, Rock River Gravelly & Villa Grove sandy clay loam.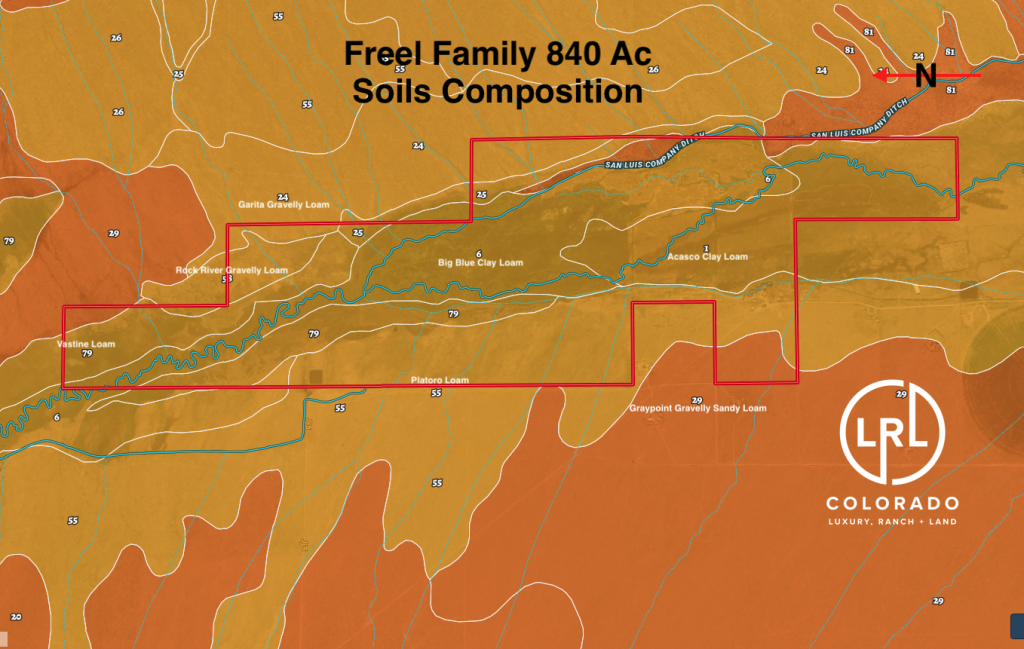 Follow the pages below for detailed information on different elements of the property!