Property Details & Maps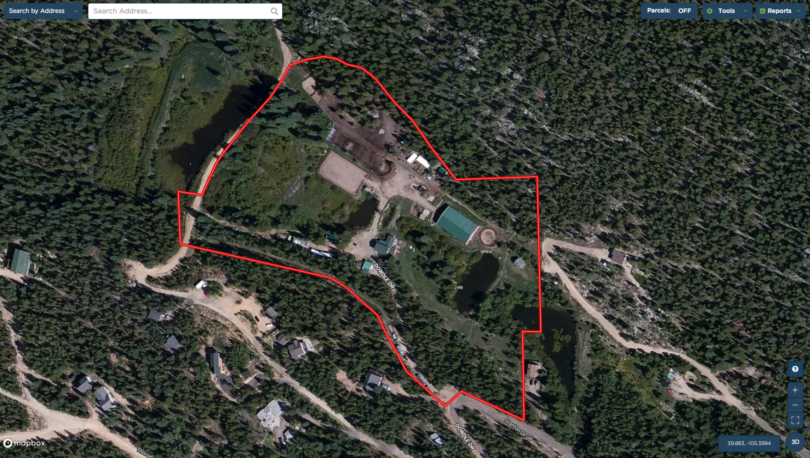 Tucked in to the foothills at an elevation of 9100′ just outside of Golden Gate State Park between Boulder and Golden Colorado; The Starr Peak Ranch is a private gem within the Mineral Acres subdivision at the foot of Starr Peak.  Zoned RS (Residential Subdivision) within Gilpin County; the zoning matrix can be directly accessed from the documents section of the website.
Consisting of 13.93 Acres zoned RS (previously R-1) within Gilpin County, the property is a mixture of grassy meadow, areas of treed forest, ponds and wetland, and terraced paddocks.
MapRight Interactive-zoom in/out and Hover over elements  or "View Full Screen" for additional information.  Use "3D" Button in upper left  and drag "N" around compass for additional perspectives.
The property has a 4 stall and a 2 stall stable supported by loafing sheds.  A large paddock of approximately 9/10 ths of an acre is terraced to the north, a smaller paddock lies adjacent to the south with a loafing shelter, and a smaller still paddock with loafing sets to the southeast.  The 130'x75′ outdoor arena and 50″ round pen complete the outdoor structured training and exercising areas while a 1/2 mile perimeter loop trail circumnavigates the entire property providing wonderful space to exercise and enjoy right on the property.  A separate spur trail leads directly on to public lands and accesses an entire network of neighborhood and area trails.
The property is directly adjacent to public lands at it's north eastern boundary providing legal access to the forest.  Additional collaboration with adjacent land owners has historically provided further expanded access and nurturing these relationships could provide additional benefits.  The entire region is surrounded by a multitude of public lands and parks that are easily accessed for expanded recreational and equestrian outings.